Breakfast with Bill Hawkins, Former Chairman and CEO of Medtronic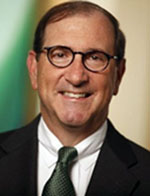 The New Normal in Healthcare - Still an Attractive Sector?

Join us for breakfast with Bill Hawkins, Former Chairman and CEO of Medtronic and newly appointed President and CEO of Immucor, on Tuesday November 15th at the University Club of Chicago. Bill will discuss the new normal in healthcare and whether or not it is still an attractive industry. Additionally, Bill was just named Executive in Residence at FDA and will share his thoughts on what to expect going forward from FDA. We urge you to attend as Bill has unique experience managing in a variety of settings: companies large and small, public and private.
About Bill Hawkins
Bill Hawkins was named President and CEO of Immucor in October 2011. Most recently, Bill was Chairman and Chief Executive Officer of Medtronic, Inc. He became Chief Executive Officer of Medtronic, Inc. in August 2007 and Chairman of the Board in August 2008. Mr. Hawkins was named President and Chief Operating Officer in May 2004 after joining Medtronic as Senior Vice President and President of Medtronic's Vascular business in January 2002. Mr. Hawkins joined Medtronic from Novoste Corp., where he had been President and Chief Executive Officer since 1998. Earlier positions included Corporate Vice President and President of the Sherwood Davis and Geck organization of American Home Products; President of the Ethicon Endo-Surgery organization of Johnson & Johnson; President, Devices for Vascular Intervention and President U.S. Operations, for Guidant Corp.; and several increasingly responsible executive positions culminating in the presidency of the IVAC organization for Eli Lilly & Co. He began his medical technology career with Carolina Medical Electronics in 1977. Mr. Hawkins received his Bachelor of Science degree in electrical and biomedical engineering from Duke University in 1976 where he also conducted medical research in pathology. He received a Master of Business Administration Degree from the Darden School of Business, University of Virginia, in 1982. Mr. Hawkins is a member of the Duke University Board of Trustees, the Board of Visitors of the Engineering School of Duke University and the Minneapolis Institute of Arts.
DATE: Tuesday, November 15, 2011
TIME: 7:30 – 9:00 a.m.
LOCATION: The University Club, 76 East Monroe St., Chicago, IL
COST:
HBSCC Members/Partners and Guests: $35/person
HBS/HCC Healthcare Group Members and Guests: $35/person
HBSCC Patron and Patron Plus Guest Pass Members: FREE
Non-Members: $55/person
Wharton and Kellogg Alum: $40.00/person

Please call (847) 256-4846 for assistance if you are having trouble purchasing a ticket.

Click here to buy tickets!!!
CANCELLATION POLICY:
All cancellations must be received within two (2) business days of the event or the attendee who made the reservation will be charged, regardless of participation, due to costs associated with the reservation.